Product Description
CE Approved Gas Barbecue Grill
Aobeki's 6 &1 Gas Barbecue Grill perfect for accommodating large family feasts, this highly versatile and powerful premium gas barbecue is ideal for any sized garden. 6 Individually Ignitable Gas BBQ control knob mean that your can create a variety of temperature zone across the grill and cook a wide range of food, all at the same time. Double Walled Stainless Steel Lid provides and added insulation and can keep food warm for up to 30 minutes after the barbecue has been turned off. There's also a handy thermometer in the hood, to easily monitor cooking temperature. Designed with a heat and flame resistant paint, this high quality barbecue will last for many years to come.
1. Hood: Double layer, outer layer is Stainless Steel #430
2. Case: Cold-Rolled Steel with enamel coated
3. Cooking grill: Enamel coated cast iron, 3pcs
4. Griddle: W/O
5. Warming rack: Enamel coated
6. Thermometer: Stainless Steel
7. Burner: Stainless Steel
8. Ignition: Automatic ignition
9. Diffuser: Enamel coated, 6pcs
10. Control panel: Cold-Rolled Steel with high temperature powder coatd
11. Side table: Cold-Rolled Steel with high temperature powder coated
12. Side table decoration sheet: Stainless Steel #430
13. Door: Double layer, outer is Stainless Steel #430
14. With 4pcs castor
15. With bottle opener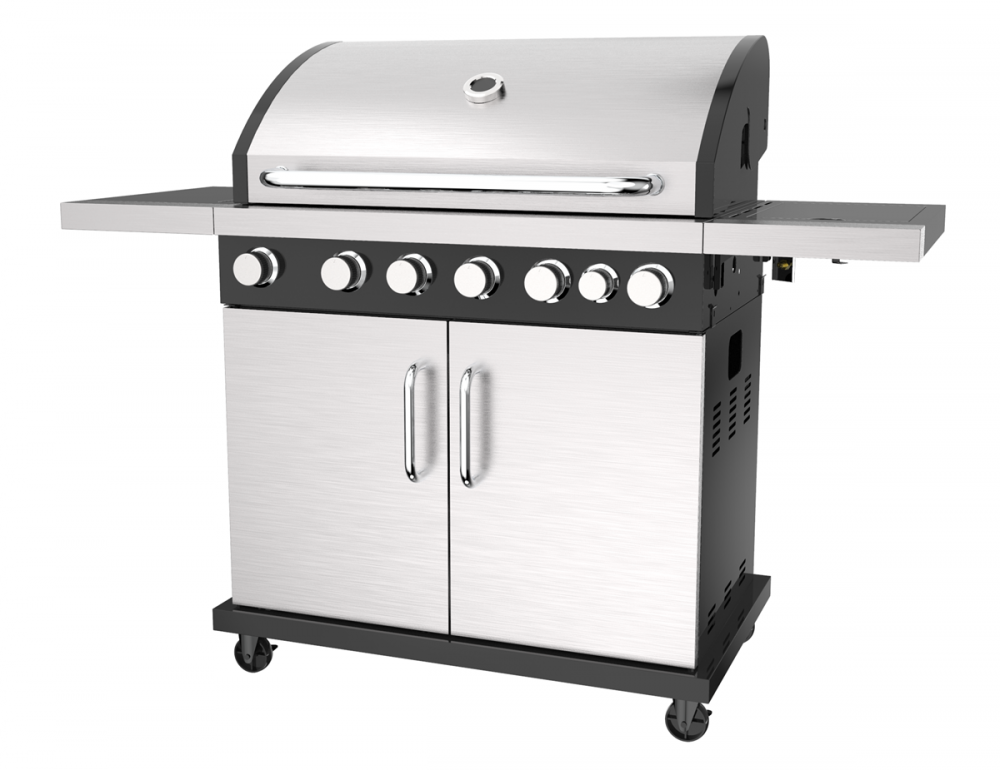 The factory covers an area of 7000 m2 ,located in Foshan, Guangdong, it's easy transportation to main ports such as Nansha(Guangzhou), Shenzhen, Hong Kong. The products line including: 2-6 Burner Gas grill, Steak Maker, Gas Pizza Maker, Gas Pancha and Plancha Trolley.