Product Description
Single Burner Steak & Pizza Maker

Aobeki's Steak & Pizza Maker is a new dimension with the High Temperature Gas Barbecue . The meat is subjected to a temperature of to 900°C for a few minutes and thus obtains a uniquely crispy surface structure. Steaks and other meat remain wonderfully juicy on the inside and are therefore irresistibly delicious, and the Pizza surface become crispy also. 365 x 310mm cooking size can hold fish and vegetables in a instant also. For maximum convenient operation and easy cleaning, the High Temperature Gas Barbecue Grill is equipped with a Stainless Steel Pull-Out Grill Grate and a removable grease tray. The stainless steel construction make the steak grill rugged and durable. Product dimensions: 510 x 380 x 335mm.

Product Details:
1. Cooking grill: Stainless Steel #430, 3.0mm
2. Warming plate: W/O
3. Grill handle: Stainless Steel #430, 2.5mm
4. Oil try: Stainless Steel #430, 0.5mm
5. Front panel: Stainless Steel #430
6. Housing: Stainless Steel #430
7. Burner: Infrared Burner
8. Ignition: Impulse Ignition
9. Control knob: ABS with base
10. Regulator and hose: W/O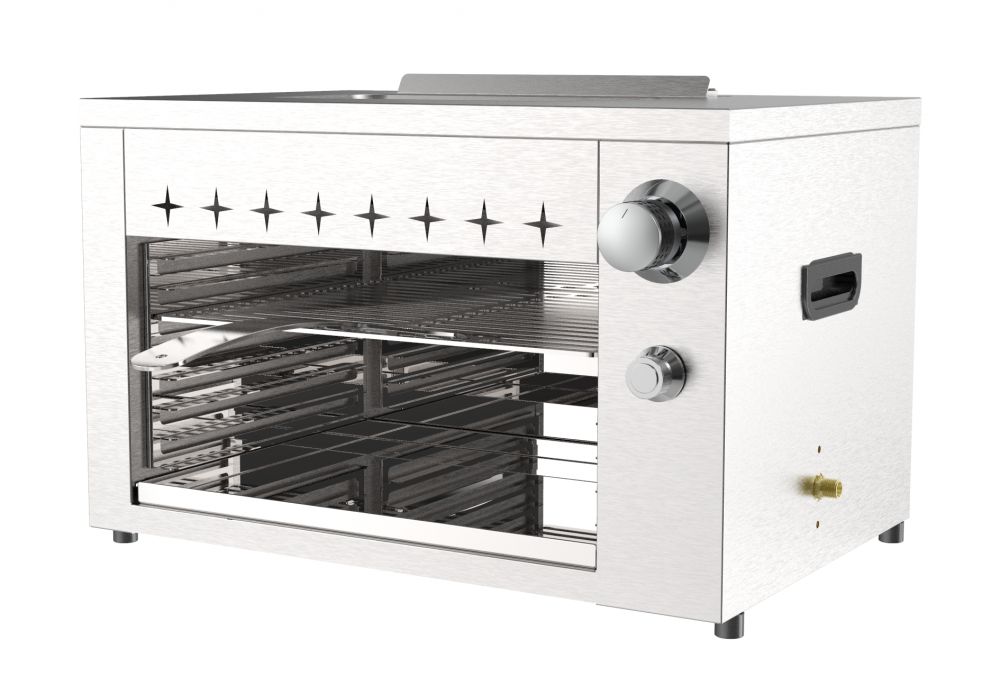 Aobeki Manfacturing Co.,Ltd qualified with BSCI and ISO9001. Product with CE, LFGB, DGCCRF etc. certifications. The product line including various Metal Gas Grill, Gas Steak Grill, Gas Griddle, Plancha Trolley...Welcome to contact us if any question.