Product Description
Two Burners Steak & Pizza Maker
Aobeki'sTop Ceramic Infrared Burner Steak Grill is Smart Impulse Ignition Steak Grill, easy to heat up to 900°c within minutes for ready to cook. Two Separate Infrared Burner Steak Grill makes two different cooking zone, can cooking different food according the food temperature required. This Steak Grill with Stainless Steel House and Cooking Grill, after grilling, the grill interior is quickly and and efficiently cleaned with little warming soap water. Handles built in both side, for easy to move to your backyard for cooking or storage after cooking. In addition to the perfect steak, the 365 x 310mm cooking size provide enough space for make varied dishes such as pizza, grill vegetable or fish, a lot fun with your barbecue party.

Product Details:
1. Cooking grill: Stainless Steel #430, 3.0mm
2. Warming plate: W/O
3. Grill handle: Stainless Steel #430, 2.5mm
4. Oil try: Stainless Steel #430, 0.5mm
5. Front panel: Stainless Steel #430
6. Housing: Stainless Steel #430
7. Burner: Infrared Burner
8. Ignition: Impulse Ignition
9. Control knob: ABS with base
10. Regulator and hose: W/O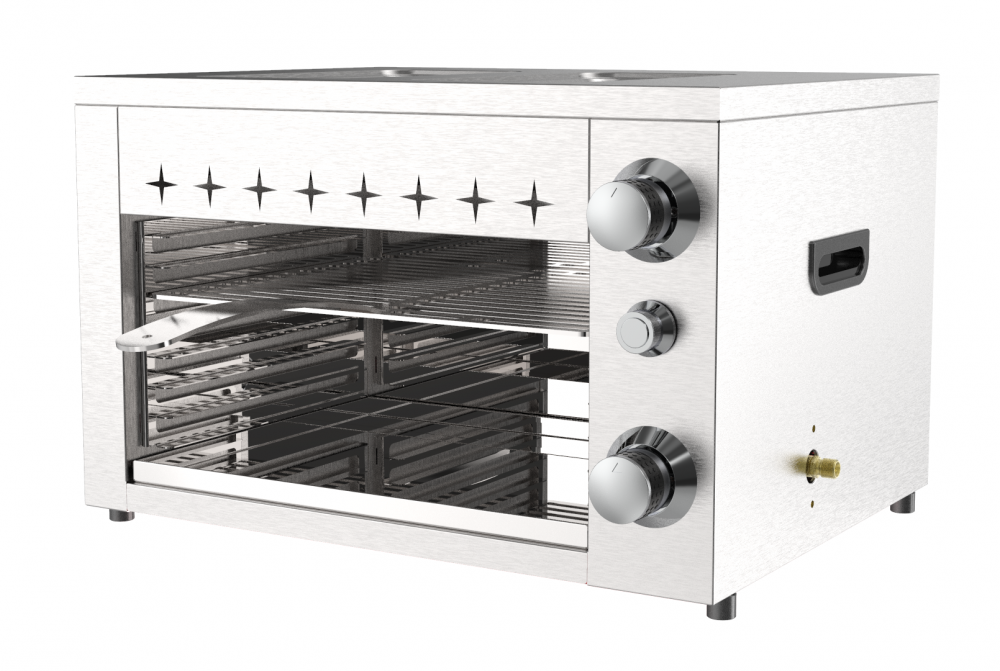 Aobeki Manfacturing Co.,Ltd is a professional, home and outdoor kitchen product manufacturer which integrating R&D, manufacturing and sales. The product line including: Steak Grill, Gas Grill,Pizza Maker, Outdoor Kitchen, Gas Griddle, Gas Griddle Trolley… Factory covers an area of 7000 m2 ,located in Foshan, Guangdong, it's easy transportation to main ports such as Nansha(Guangzhou), Shenzhen, Hong Kong.